Auto loan EMI calculator is one advent of technology which is proving to be a lot beneficial for many. Gone are the days when you had to spend hours trying to understand the EMI breakdown and still be wondering if you opted for the right plan. Today, you can simply log onto your computers and fill in the necessary details to access the information into the EMI plans.
It is all about being prepared and having the right information before you make any decision. The moment you go online to buy used cars or used bikes; chances are that you are going to be tempted by the several options in front of you. You might see one or two bikes, you had been wanting to buy for long and is now available at an exciting price cap. However, if you simply go on to purchase without considering the impact of higher costs on the EMI plans, you might end up regretting your decision.
How to Use EMI calculator online?
The best part is that you are saving a lot of time by researching into the EMI plans within the confines of your home before you finally go on to make the purchase. Vehicle loan EMI calculator helps you to make informed decisions by providing you details into:
Manage your finances efficiently – With EMI calculator online, you get to know the exact breakdown of EMI's along with the interest rates. It helps you manage finances efficiently. Once you know the monthly installments, you can go on to plan accordingly and not default on payments later.
Save time – You do not have to go through lengthy consultation and negotiations at the bank. Rather, based on bike/car information and your repayment plan you can have all the information you want into the EMI's plan readily available in front of you.
EMI calculator is an efficient tool which in present days has become an inseparable part of the consumer buying journey. It is all about making smart decisions when you go out to buy a bike/car. There is an abundance of buying options and pay off options. However, adequate information about the whole process and features lets you make an informed decision.
How to check EMI's with a vehicle loan EMI calculator?
All you have to do fill in the information to avail the necessary information within a few seconds. It is free to use the tool and you can access it from anywhere with a running data plan on your computer or smartphones. Here is a step by step breakdown of the whole process:
Step 1: Enter the ex-showroom price of the vehicle
Step 2: Enter the down payment the user is willing to pay
Step 3: System auto-calculates the loan amount required
Step 4: Select the loan tenure (In several months)
Step 5: Select the Interest rate at which the loan is available
Step 6: Click 'Calculate your EMI'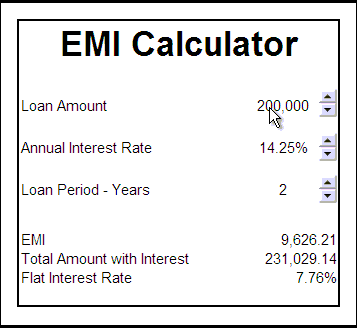 So, next time when you are unsure of auto loan EMI, it is best to use a vehicle EMI calculator online for efficient planning.
Enjoy seamless services with Droom Credit
Droom brings to you sophisticated machine learning tools and a web interface for a seamless buying journey. When you go online to buy a used car/bike through Droom, you have access to plenty of top branded models available at the best prices. You can even get a loan sanctioned within 10 seconds with Droom Credit. So, go ahead, pick the vehicle, and evaluate the EMI plan with the auto loan EMI calculator online to own your dream vehicle now.
Calculate Your Loan EMI